Finding a quality affordable apartment in Mumbai, whether you are looking to buy or to rent, can be a morale-crushing exercise. Prices in most of Mumbai are extremely high, forcing many people to live in low quality housing in far off locations as opposed to affordable quality housing.

The further people one has to leave from their place of work, the less time they get to live their lives outside of work. With traffic getting worse and worse, it is becoming more and more important to live in an area connected to major transportation hubs. There are a few areas left in Mumbai that offer affordable high quality homes for people who are also looking to have a reasonable commute time to work, schools, malls and the rest of the city.
One of those areas is Dahisar. If you don't know where Dahisar is or if your a bit uncertain of its location, that's understandable as it has only recently become a popular destination for those looking for the perfect balance between affordability and commute timings. It is located just one stop away from Borivali on the Western Line and just one exit away from Borivali on the Western Express Highway, within the borders of Mumbai City. To the east, Dahisar borders Sanjay Gandhi National Park and provides its residents with stunning views of beautiful greenery.
Not only is Dahisar a fast growing area of the city for residential housing, but it also has a growing community of businesses and a number of great schools. With growing families, people wish to have bigger, higher quality homes within the borders of Mumbai. No one wants to pay a toll to enter the city they work in. And everyone wants to be able to jump on a train (or the upcoming Metro line) and commute to and from work in less than an hour (if possible).
People want to stay where their family and friends can live in an environment they feel comfortable, while still allowing them the personal space that they need to live their own lives. Dahisar provides a perfect location for people looking for an affordable lifestyle, but don't want to lose the conveniences of living in the city.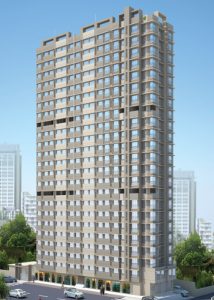 Newly constructed homes in Dahisar can start as low as Rs. 16,000 per square foot based on RERA Carpet rates. That is significantly lower than many of the surrounding areas, whether you look, north, west or south. There are no homes to the east of Dahisar unless you want to travel all the way across the park to a completely different part of Mumbai.
Now-a-days, Real Estate Developers have adjusted their strategies to meet the needs of the masses, resulting to shift in focus from unnecessary amenities to quality affordability. Developers are increasingly working towards constructing quality homes that are affordable.
V. K. Lalco Group (VKL), is amongst the biggest landowners in Mumbai, and it is currently developing a 22-storey tower in Dahisar, VKLAL VISHNU PHASE I. This is the first of many buildings VKL plans to put up in the area that are being constructed with high quality materials, but being priced at affordable prices. . The VKL Group is dedicated to providing the best home buying experience for all purchasers, whether they are looking for a 320 sq. ft. 1 BHK or 420 sq. ft. 1 BHK, VKL has designed flats for people and families of all types and sizes. We are taking bold steps towards delivering a quality product that is well within the buying range of our purchasers.
Spend time in your own home that is close to the city but yet far away from the stress that's wearing you out. With the perfect view of Sanjay Gandhi National park, find yourself in the green. Because you deserve a better standard of living.