Where in Dahisar is VKLAL VISHNU?
MAHARERA Registration No: P51800011626
What You Get from Our Under Construction Project in Dahisar?
VKLAL VISHNU PHASE I is a first-class residential project located in the heart of Dahisar. Our goal is to provide every purchaser of a 1 BHK flat in Dahisar with a perfect home. This top-quality 22-storey residential tower strikes a balance between affordability and luxury. Made from the highest quality construction, VKLAL VISHNU PHASE I complies with all important fire safety measures. We endeavour to provide a dream 1 BHK flat in Dahisar with limitless possibilities.
This beautiful residential tower offers home buyers the best value 1 BHK flat in Dahisar. We can offer our residents help with furnishing their apartments as we maintain a full-time staff of interior designers who are dedicated to make your dream home a reality.
Want to See Our Brochure? Fill in Below.
Size Details
RERA CARPET AREA
Flats Available
SQ. FT.
SQ. MT.
Flat 01
396.22
36.81
Flat 02
394.39
36.64
Flat 03
419.90
39.01
Flat 04
316.03
29.36
Description – 1 BHK in Dahisar
These 1-BHK first-class apartments are designed to offer ample space with modern amenities and the ultimate comfort. Apartments have large windows in the living areas, bedrooms and kitchens providing splendid natural light throughout the space.
The living area is large enough to fit a 4-seater dining table and a large sofa for lounging. Owners do not have to squeeze on to a tiny 3-seater sofa and eat their meals on the floor. In our apartments, there is enough room to do everything with ease and comfort.
The kitchen also has a large window, allowing for proper ventilation while cooking. There is enough storage for everything you need to prepare even the most complex meals. Kitchens have been strategically located to provide residents with enough privacy when needed, but also easy access for those days when time is the most important thing.
Fixtures, tiles, granite, windows and all other materials used to build every 1 BHK flat in Dahisar are of top quality and design. The large size, high-quality tile and specific designs have been chosen to make each every 1 BHK in Dahisar feel like the perfect home for each owner.
We do not feel there are apartments for sale in Dahisar with better views than our VISHNU flats in Dahisar East under construction. Owners have a choice between an almost unobstructed view of Sanjay Gandhi National Park or the Western Express Highway going all the way to the Arabian Sea.
When choosing between various apartments for sale in Dahisar, make the smart choice with VKLAL VISHNU PHASE I.
Amenities
Security System
24 hours Water Supply
Parking Facilities
Granite Countertops in Kitchen
Premium Vitrified Flooring
Premium Bath Fittings
Intercom Facility
Fire Alarm
Beautiful Entrance Lobby
Aluminium Sliding Windows
Premium Electric Wiring
Premium Sanitary Ware
Premium Elevators
Furnished Options Available
Show Flat – 1 BHK Flat for Sale in Dahisar – Actual Flat Pictures
Location and Transportation Map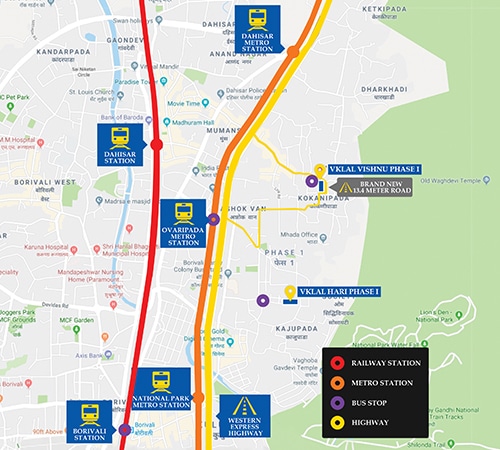 Why Choose a 1 BHK Flat in Dahisar East?
Dahisar East offers one of the best values for money in the city of Mumbai. The demand for and price of many apartments for sale in Dahisar has gone up substantially in the past decade. A 1 BHK Flat in Dahisar East has more than doubled in the last ten years.
Dahisar is less than 5 minutes from Borivali and is just a train ride (soon to be metro ride) away from BKC and South Mumbai. The new Mumbai Metro will have a stop in Dahisar, adding another major transportation hub to the area. Dahisar already has its own railway station as well as easy connections to the Western Express Highway. Local buses run throughout SN Dubey Road and the bus stop is less than a 1-minute walk from VKLAL VISHNU.
Several builders in Mumbai have already begun investing in the area to upgrade the local infrastructure and roadways. We expect the area to develop quickly over the next decade. VKLAL VISHNU will be located on a brand new 13.4-meter road that provides a direct connection to the Western Express Highway in 3 minutes.
Disclaimer
Renderings, floor plans, images and measurements are approximate and are for illustrative purposes only. While we do not doubt the floor plans accuracy, we make no guarantee, warranty or representation as to the accuracy and completeness of the floor plan. You or your advisors should conduct a careful, independent investigation of the property to determine to your satisfaction as to the suitability of the property for your space requirements. Nothing in this website constitutes any agreement or offer for sale, rent or transfer of any property.
Flats in Dahisar East under construction must abide by all governmental rules and regulations.